Pitta Balancing Raw Chia Pudding
Here's something to indulge in the weekend!
It's saffron season, so I thought I'de be nice sharing this recipe with you :)
It is in no way good food combing, and for that I don't really know when to recommend eating this, but definitely not in the morning, maybe as a midday snack? Anyhow, it's just warming, filling and plain delicious!

2 PEOPLE
2 tbsp Chia Seeds
1 1/2 water or preferred milk
1/2 pinch of Saffron
1 tbsp shredded Coconut
4 chopped dried figs
1 dl fresh or frozen raspberries

Let the chia seeds, liquid, saffron and shredded coconut mix and sit for about 10 minutes until it becomes a thick-like pudding consistency. Then mix in the chopped dried figs and top it off with some raspberries.

- Here I've used Oat Milk and also topped it off with some pomegranates which is also Pitta balancing.
If you need more sweetness you can always use some drops of flavored stevia or some coconut sugar.
Have a beautiful and wonderful weekend!
Recipe taken from the book "Food is My Medicine" by Janesh Vaidya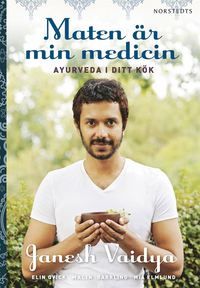 ---
Comment
Trackback