Been searching for a fun and light mat bag that can hold keys and other small things.
Right now I've been actually carrying my (oh so heavy 3kilo) mat to class, but of course, I live only 5 minutes away from the "studio" - the pros of living in a small town in other words - if you can call it that...
Anyway, this one would be just perfect for that short stroll! 
I'm also looking for a travel mat for the moment, 'cause I'd love to have one to take me with on the weekends or when I go to Stockholm to visit mom for a week or two. I was thinking about the
Manduka eKo SuperLite travel mat
but got a little put off by the mixed reviews, and the bad ones were really bad. Like, the mat degrading after only 3 months of use. I definitely want it to be organic but if I pay about 400kr I expect it to last more than that, but also, it seemed too thin, I still want some kind of "cushioning". And the other Lite mats I've found are still a bit on the heavier side. 
But I found a great invention with the cutest name:
Yoga Paws
.
The main concern is actually the gripping. Both in Sundvall and in Stockholm I try practicing on a simple rug, but it always feel like I'm slipping and having less control. Something to think about at least! 
---
You know how I feel about supplements these days, I'm strongly against any type of pill.
But of course there's a difference between a manufactured pill and a pill containing natural substances, e.g Chlorella. Although, in any case I'm not fond of the idea of pill-supplementation for the rest of your life, I think they can be great boosters in certain times in your life. But I'd rather see people turning for a garlic clove to treat inflammatory pain than a pill.
Anyhow, maybe I'm getting a little overboard with the whole Ayurveda-thing right now, or I'm just childishly curious. But I came over this great site called
Banyan Botanicals
, I did their dosha and imbalanced doshas tests and took all of their advice in. One of the advices were to take Triphala with Blood Cleansing tablets for balance and
healthy skin
. Now, I don't want to jinx it but since starting to incorporating more Ayurveda* into my life I believe I see less redness and less purging in my face now after two weeks! (And I was on my PMS-period) But I definitely feel like it needs a push!

So, Banyan do international shipping but I don't really felt like finding out the shipping charges and then maybe taxes and duties would add later. Triphala was easy to find, it basically means Three Fruits (Amla, Haritaki, Bibhitaki) that is used to cleanse the whole system by regulating the bowels, and balance out all three doshas. I now know very well that it's been in my gut but also stress all this time and it has even affected my hormones  - which has finally gotten somewhat balanced yay!
Now, the
Blood Cleansing
tablets was a bit trickier to find. Banyan uses five ingredients and I tried finding something close to that including all those ingredients, and so I found
Guduchi & Neem
, which is supposed to help regulate the liver and eliminate toxins. I hope it's the same thing as a blood cleanse...
I've ordered these two jars from
FeelUnique
(cheapest) and I'm hoping they will give my system that push it needs.
I'm not gonna lie, both me and my boyfriend has had some kind of detox symptoms from the Ayurvedic food that seems so innocent but it has literally kicked our butts! (too much info maybe?)
I'm not gonna take these pills forever, I see it more as I'm going on a Detox for a month. And when the pills run out I will try to maintain balance just as I'm trying now: with whole foods, exercise, love and thankfulness.
I will come back to review them!
PS
I was also curious to test the
Neem & Sarsaparilla
blend, good for treating eczema, psoriasis, acne and rosacea. Unfortunately right now they are not in stock, but for now I think I will concentrate on cleansing my gut and my blood.
PPS Are you also interested in these and other herbal formulas or anything else from FeelUnique and can't wait?
Use code: FESTIVE15 and get 15% off your order, ends midnight Monday.

✦ ✦ ✦ ✦ ✦
*When I speak of Ayurveda I don't only mean about eating for a certain dosha, but in general: how I do yoga to balance out Pitta, how I'm thankful for everything, how I treat myself and others. I basically try to be open, calm, forgiving and passionate over the daily things and thoughts that pass me by :)
---
Here's something to indulge in the weekend!
It's saffron season, so I thought I'de be nice sharing this recipe with you :)
It is in no way good food combing, and for that I don't really know when to recommend eating this, but definitely not in the morning, maybe as a midday snack? Anyhow, it's just warming, filling and plain delicious!

2 PEOPLE
2 tbsp Chia Seeds
1 1/2 water or preferred milk
1/2 pinch of Saffron
1 tbsp shredded Coconut
4 chopped dried figs
1 dl fresh or frozen raspberries

Let the chia seeds, liquid, saffron and shredded coconut mix and sit for about 10 minutes until it becomes a thick-like pudding consistency. Then mix in the chopped dried figs and top it off with some raspberries.

- Here I've used Oat Milk and also topped it off with some pomegranates which is also Pitta balancing.
If you need more sweetness you can always use some drops of flavored stevia or some coconut sugar.
Have a beautiful and wonderful weekend!
Recipe taken from the book "Food is My Medicine" by Janesh Vaidya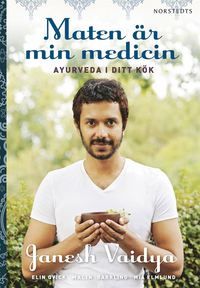 ---
This week I started eating after the Ayurvedic way to see if I can get some kind of... oh what's it called?
Anyhow, I haven't gotten the results acne-wise I've wanted with raw food as I've probably mention somewhere before. It is absolutely better than what it was a year ago, but it feels like something is missing. So I'm inspired to test new things, still holding on to the vegan/vegetarian ways. I've done my food-shopping for the week so I'm all set for eating more "Pitta balanced".
I'm no expert, and doing those Dosha-tests doesn't make me wiser in what body type I am. I think I went mad after doing ten different tests, and everyone came out different! haha The only test that I felt was correct was the one saying I'm Tridoshic, which is said to be rare. However, when I concentrate on the specific problem one could give, too much Pitta can cause skin problems. So with that information I took the conclusion to eat more Pitta decreasing foods.

I won't go all thorough of what I will eat and try to avoid but here's a general list:
Decrease or Avoid - citrus fruits, avocado, sour apples and berries, bananas, peaches and apricots, most nuts and seeds, most oils, salty and spicy foods, white sugar, buckwheat, linseeds, alges, carrots, beets, tomatoes, spinach, leeks and onions.
Increase - kale, broccoli, brussels sprouts, fennel, green beans, cilantro, ruccola, corn, potatoes (including sweet), cauliflower, cucumber, celery, squash, cabbage, peas, quinoa, oats, pineapple (if mature), sweet berries and apples, sweet plums, raisins, figs, dates, pomegranate, melons, mango, hampa seeds, kokonut, falx seeds, chia seeds, ghee, coconut oil, most vegetable milks, saffron, turmeric, mint, honey, green juices.

I like to take the avoid-list first, because then when you read the eat-list you realize there's actually much to eat and it doesn't conflict too much with my mainly chosen raw path. Although, bananas is  a staple and right now we have a fridge full of tomatoes... I will try to do my best, I'm even making my own Ghee!
I will probably do this until I feel like I'm not getting any results or until I see some! I will also report back in week!
Right now, after just four days, I feel like doing some adjusting to the diet.
In the book "Food is my medicine", one of the breakfasts for Pitta is this delicious Chia pudding with saffron. Problem is: it's fat in the morning. I haven't had that for a long time, so my body has been spoiled. Also there's no actual lunches or dinners per se in the book and most of them are cooked, but Pitta's should eat their heaviest meal for lunch. I tried that, and after the fatty breakfast and the heavy lunch I was ready to pass out around two o'clock! And suddenly I've become constipated?!
I've already found two faults in the diet:
1. Bananas - It is said to eat them in moderation or skip if constipated. The funny thing is that bananas prevent constipation. Makes no sense in other words, anyone who can explain?
2. Food Combining - If you do your research online you'll know Ayurveda is all about good food combing (I'm hoping to do a post on this soon!), but in this book there's none like it. Probably because it's been adjusted for us Swedes.

So I'll do some modifications here on forward, doing fat-free Pitta smoothies or eating melons as usual in the morning and for lunch, and then eat the fattening and heavier foods for dinner or as a snack.
And just L O V E-bomb me with affirmations that I'll have that smooth glowing skin I deserve!
Someday we'll find the answer, but we have to search for it to find it.
Do you eat according to Ayurveda?
Have you tried this diet? Any thoughts?
---
One of the seminars I went to was of Janesh Vaidya who wrote the book "
Food is my Medicine
", unfortunately just after the speech his book sold out so I couldn't get a copy autographed, but his talking was so inspiring that later when I got home I just had to make an order.
In late April it will have been one year since I started this food journey. First with Raw Food, then with focus on 801010, and now I'm on Raw till 4 (still 801010). And while I eat cooked dinners I get the option for more experimenting, and when I first read about raw food I noticed many combining it with Ayurveda which isn't all raw, and not necessarily vegan. But it has struck me an interest and I would love to combine everything I learn later to my own little perfect diet and lifestyle and that will maybe inspire you too in some changes! Nowadays I feel like just saying that I eat plant based, and I will continue with it. Because fish and egg does occur but rarely in my diet, but I feel like a fraud calling myself a vegan (what's with these tags anyway?!) - Naming things won't give us more definition, it will only stress us out even more haha!
Then in the bookstore I came across
The Vegetarian Cookbook
, and I will probably give my mom a copy for Christmas, 'cause it's an excellent book for anyone! Whether you are a vegan/vegetarian or starting out to be one, it's just the best! Every recipe is marked if it's a raw, vegan, lakto-, ovo- or anyone.
There's great information in the beginning of the book with seasonal guide on fruits and veggies. There's also a chapter about Food as Medicine. And I don't know why I'm so excited, but I wasn't expecting it, there's a segment about making your own herbal teas for different problem areas! If that did not sell you to buy the book I don't know what will! - You know I'm being totally sarcastic here right? But yeah, herbal teas...
---
Just a week ago I went to the Everything For Health Fair, and this is what I came back with!
Not much I was very excited over Rosenseriens Deodorant, which I've heard many great things about. And being a bit dissapointed on my Urtekram that I bough at a sale, this one definitely felt like a five star! I will probably write a more in-depth review of both the deo and the hand cream that I got. They were actually included in a great deal, for only 100kr you would get three magazines of
Hälsa
, the book Grönt Helt Enkelt, Love by Dalai Lama, and the two full size products from
Rosenserien
!
Then I went in line for a sign up to get a goodie bag from Svensk Hälsokost, were you got a water bottle,
Magazine, D-vitamins and a raw bar from Superfruit which I ate quickly before coming home.
Mom got me some pralines which also disappeared rather quick in both Peter's and my mouths. Luckily I didn't wake up the next morning with huge zits, but I won't push it...
And not to get too personal, but I managed to get my hands on some samples from
Yes Organic Lubricant
, water-based and oil-based, shall be fun testing them out hehe
I also went by
i-m Naturkosmetik
who gave me two samples on their Phyto-Balance 24h Moisturizer that's for combination/oily/acneic skin. I like that it's supposed to be very moisturizing and balancing, not like other creams for combination skin.
If you're also interested in i+m they now offer 20% off everything on their
webshop
.
Just enter promo code: HÄLSA in the checkout. Valid to 30/11/2013.
I also managed to go on a few seminaries, but time flew by and then I was too tired to even go see the My Kitchen Fair.

But as always it was a lot of fun and inspiring. I don't remember who I spoke to, but of course my mom had to ask if there's something they can do to my acne. I always say to her that it takes time to heal, and right now I don't expect to see any results until two years from now! Weirdly enough the dermatologist we spoke to were spot on, told my mom that my acne is rooted from within, probably the gut, and it takes time. Of course there is treatment, but she asked about my diet and I told her everything I've done until now, and she told me to have patience.
It was actually really freaky, like she had a sixth sense, 'cause without me having to say much she new I was an Aquarius born later in the sign, I always want to be a "good girl" which puts a lot of stress on my body, she also knew/said I should do something with Graphic Design(!!! - like wtf) or something creative and I should never stop trying. It's an amazing feeling when someone just looks at you and just knows you! I don't remember exactly what she said, but I kind of know what she meant. She said that I am a strong feeler. Without getting too hokuspokus on you but I do have a great sense of prediction and moral, also I get strongly affected of peoples moods or energy field that I call it - therefore I always feel better and more free left alone. It was very interesting though to hear about oneself from someone who barely knows you. :)
---
 So, I'm back in Hudik and I've settled in, so let's go on with the Liebser nominations! I don't follow as many "small blogs" as I would like. Most of my nominations will probably be the same as everyone else's because everyone follows everyone, and there's always a few who are the more dominant kind.
1. Natural Beautytalk
- Of Course I have to give one back, but not just to be kind but because it's one of those blogs that when I first found it I went through her whole archive! Since then her blog has always been one of those I always check first. Also, she was the one who planted a little seed in my brain that maybe I should explore more about this link between diet and skin health. :)
2. La Vie Est Belle
- by Mona who writes about natural beauty, she's one of the first Swedish natural beauty blogs I came by and who introduced me to iHerb!
3. Bilbo Blue Eyes
- Very informative blog by Malin who has a huge archive of reviews which I always like to check when I'm interested in something new.
4. Beauty Comes Clean
- Mitte is a graphic design, and so her blog design was the first to appeal haha. No but, she writes good articles about everything between eating cleaner and reviewing clean products.
5. The Green Beauty Guide
- Another blog that when I first found it I had to read it all. I found out that she too has had a weird dizziness which controlled her life for a while, and I've never come across someone with the exact same symptoms. She hasn't written anything for a while now, but I'm still hoping and holding on, but I know how it is when life just comes in the way!
6. Tankar Som Bankar
- Estelle writes a personal blog with thoughts and reviews on natural skincare, a small blog who needs some spotlight :)
7. The Daily Good
- Is more of a magazine with guest bloggers. You'll find everything from interviews and articles to mindfulness quotes and healthy recipes.
8. Nephriticus
- (When I think about it, I don't follow many english blogs on natural skincare?) I found this girl's blog through Instagram and liked her enough to follow. She writes about natural scincare, her likes, empties, wishes and dislikes.
And some YouTube bloggers:
9. Holistic Habits
- A beautiful and fun girl who has a huge interest in natural beauty and eating well. (
blog
)
10. Cloudy Apples
- Another beautiful girl with same interests, but also talks about personal things like overcoming anxiety and stress. (
blog
)
In short these two girls make a great role model for other insecure girls!
I think it's become a prominent trend by beauty bloggers to write more and more about food and diet, for example, many brings up the trend gluten and dairy, which I think is great.
Beauty does not come on the outside, but from the inside - I guess we finally figured out what that really meant ;)
So my questions are:
1. What's your morning routine? (Skincare-/Food-wise)2. Favorite natural hair product? What brand and why?3. Do you or have you ever done your own facial mask? What ingredients did/do you use?4. What's your favorite beauty food/meal? And why?5. What is your preferred exercise?6. Do you believe in the law of attraction? Share a story of something like it happening to you.7. Is there any website/blog/app you always turn to for inspiration for healthy ways/recipes?8. If you had the chance to move anywhere in the world and work, would you take the chance? And where would you move?9. What's your favorite natural product that you always fall back to?10. Is it important to you to buy organic or recycled clothing?
---
 This week I'm in Stockholm, reuniting with my mom - trying to make her go vegan or at least raw until 4 ;)  
We'll be going to the Stockholm's Fair for "Allt för Hälsan" (Everything For Health) which we kind of go to every year; always fun to discover new things for your health.
Just before this this trip I got to know I was nominated for a Liebster Award by the lovely Elisabeth who runs the blog
Natural Beautytalk
!
The nomination goes like this, you answer ten questions the blogger has for you and then you nominate ten other bloggers with less then 200 followers with your own ten questions. I haven't had the time until now to answer them, but here they are:
1. When did you first get interested in natural skincare?
I don't remember the exact time, but it started with the blog Milk/Signe, which used natural oils in her face and hair. And I really admired her for that, while at the time I was yearning for expensive paraben loaded shit. Thankfully that changed and I'm never looking back!
2. Which was the first natural skincare product you've ever tested?
In the beginning it was Argan and Coconut oil, but you probably mean a commercial brand? Then the first real and truly pure brand was REN's ClearCalm3 Anti-blemish kit.
3. Have you ever tested a bad product that made you really disappointed? Which one?
That will be REN's ClearCalm3 kit (
review
) haha, luckily I did not give up on natural skincare. But I don't know if it was the time or what, but it gave me even worse cystic acne which I have still scars from that's healing. I did like their Glycolactic Radiance Renewal Mask though.
4. Do you adjust your skincare after season?
Nothing that I think of, if I finish a product in the middle of a season and I feel for something heavier, then I'll probably buy it. I may also just switch to a heavier oil, but it's nothing I do because it's suddenly winter/summer.
5. If you could take three beauty products to an island, which ones would you take?
I haven't found the perfect concealer yet, but a concealer is definitely on the list! My Tangle Teezer is a must! The quality of my hair has drastically changed for the better and it's not a chore to detangle my long hair.
But after that it gets a little harder 'cause I'm not that attached to beauty products as some…
Is a juicer a beauty product? (in my opinion it is) So let's just play with the idea it's battery driven or there's some kind of magic electricity on the island, I would then pack my juicer!
6. Do you wear makeup during the weekdays?
Yes and no, a little concealer under the eyes and maybe some mascara, but mostly nothing heavy if I don't feel ugly that day - then some mineral foundation will come in handy.
7. Is there any ingredients in natural skincare you avoid?
Not really, I seem to function good even when there loads of essential oils in a product. But I do notice that less is more, so the longer the ingredient list the more prone I am to face some kind of trouble.
8. Which product do you like as a multiple?
Coconut oil. You can cook with it, clean your face using the oil cleansing method, use it on your hair as a heat protector, use it as body/face lotion... the uses are endless!
9. Is there any diet trends you're suspicious of?
LCHF, Paleo and this new 5:2 diet. But after reading about the
man who eats nothing but raw meat
and it "healed" him I feel like I'm not the one to judge anymore, but the proof is in the preachers, and to be honest, the ones who say they are happy with 5:2 and LCHF could actually lose some more weight and toxins and have even more energy!
Also I feel that people should stop thinking about weight and think about their health. By losing weight you're only going to supress the symptoms of something much larger and more toxic that is building up in your body - losing fat is only going to make you even more toxic because now the toxins have nowhere to hide! Start with one raw meal a day and concentrate on HCLF-diet and you suddenly will see a different you, a one you never thought you could be!
10. Do you have any favorite meal you go to when you want it to go fast and taste good?
Nanjanas! (For you who don't speak Raw: Bananas)
✦ ✦ ✦ ✦ ✦
Is it okay if I get back on the nominations and questions?
Haha the clock is ticking and I have to go and get ready!
I feel honered and many thanks for the nomination, always fun to be recognized :)
---
As I wake up Söderhamn is already a distant memory, a closed chapter in the thick novel of my life. I took the decision a few days ago not to continue with my new job, a thought that's been with me for a month, but my naive personality said that it would get better if I just hold on. But then the new schedules came and I completely broke down.
I've always prioritized my own sanity before anything else, and this time was no different.

It's sad when I really liked the people I've met, but I feel I've done everything I could. And when a situation makes you cry and effects your mood to the point that your own boyfriend and your boss calls you a bitch, I think it's time to move on...
It wasn't supposed to go that far.

I'm grateful for the experience and to finally get out a little and meet new people. I've learned so much about myself, no ones perfect, and thanks to this I've seen the things I really need to work on to become a better person.

It's funny how things started moving together with yoga, life suddenly opened up.
I don't think it's a coincidence I got a job just a few weeks after I started my yoga class and ended it two weeks from finishing it. It all feels like it's been an "off-yogamat"-lecture I must say. And thinking like a yogi has been the biggest help to keep going everyday: waking up at five, never miss the train, doing good at work, adjusting to peoples personalities, inspire, letting go of grudges, being grateful for what I've got, finding time, compromising, and of all showing love when I don't feel like I have anything to give.

Right before I started working my mom lend me "The Magic", it's a book to help you practice gratefulness. I didn't really come far in the assignments before I felt all energy being put into work. I'm hoping now to start over and start practicing yoga again, and that I'm really excited over!
I've always had thoughts of bliss in my heart each day, but it wasn't something I wrote down in a journal.

Something you can do each day is write down ten things you're grateful of each day, on the computer or in a notebook.
No matter how small or big, but it's important to always write also Why you are grateful — this strengthens your blessings, to remind yourself of Why you feel a way. And then read it out loud saying "Thank You, Thank You, Thank You" after each point. And then finishing with ten deep breathes of meditation.

I always finish my blessings with thanking the Universe, Life and Light for always being with me, holding me grounded and keep me moving forward. Namasté.
---